TikTok is a lot of fun to use, but it's also essential to consider it a business tool.
With 167 million TikTok videos watched in an internet minute, it can get overwhelming for creators to keep up with the demand.
If you're a TikTok content creator, social media manager, or solopreneur, keep reading to discover 11 timeless TikTok content ideas for your brand.
TikTok Content Ideas for All Industries
Content ideas for TikTok
2.1. Jump on the hype train
2.2. Use TikTok Duet and Stitch
2.3. Use storytelling to your advantage
2.4. Create a tutorial for your product/service
2.5. Share benefits of your product/service
2.6. Debunk myths from your industry
2.7. Join challenges
2.8. Celebrate international days
2.9. Answer a question from your community
2.10.Make before & after videos
2.11.Listicles for the win!
How often should brands post on TikTok?
On average, the best-performing TikTok brands post 3.52 times per week.
Ultimately, TikTok is more intuitive than Instagram.
On TikTok, there's no such thing as a magic formula for what you post or how often.
So if you feel like posting more times a day, that's not a problem. The more content you share, the more chances you have of getting discovered.
However, you can optimize your efforts by taking a look at the best posting times for TikTok.
And, if you're curious to learn about other TikTok data as well, you may want to check out these TikTok statistics for 2022.
Content ideas for TikTok
Let's get to the more complicated part — creating the actual content.
Whether your goal on TikTok is to sell or build brand awareness, you must provide your audience something valuable or relatable.
As a result, regardless of the business, your postings should be both entertaining and educational.
So here are a few content ideas to help you get more TikTok followers:
1. Jump on the hype train
The market and the industry are constantly evolving.
This means that, to get exposure, you need to stay alert and adapt your content to the latest trends on social media.
Take, for example, Duolingo, who's always the first one to react whenever Dua Lipa or Jack Harlow drops a new hit.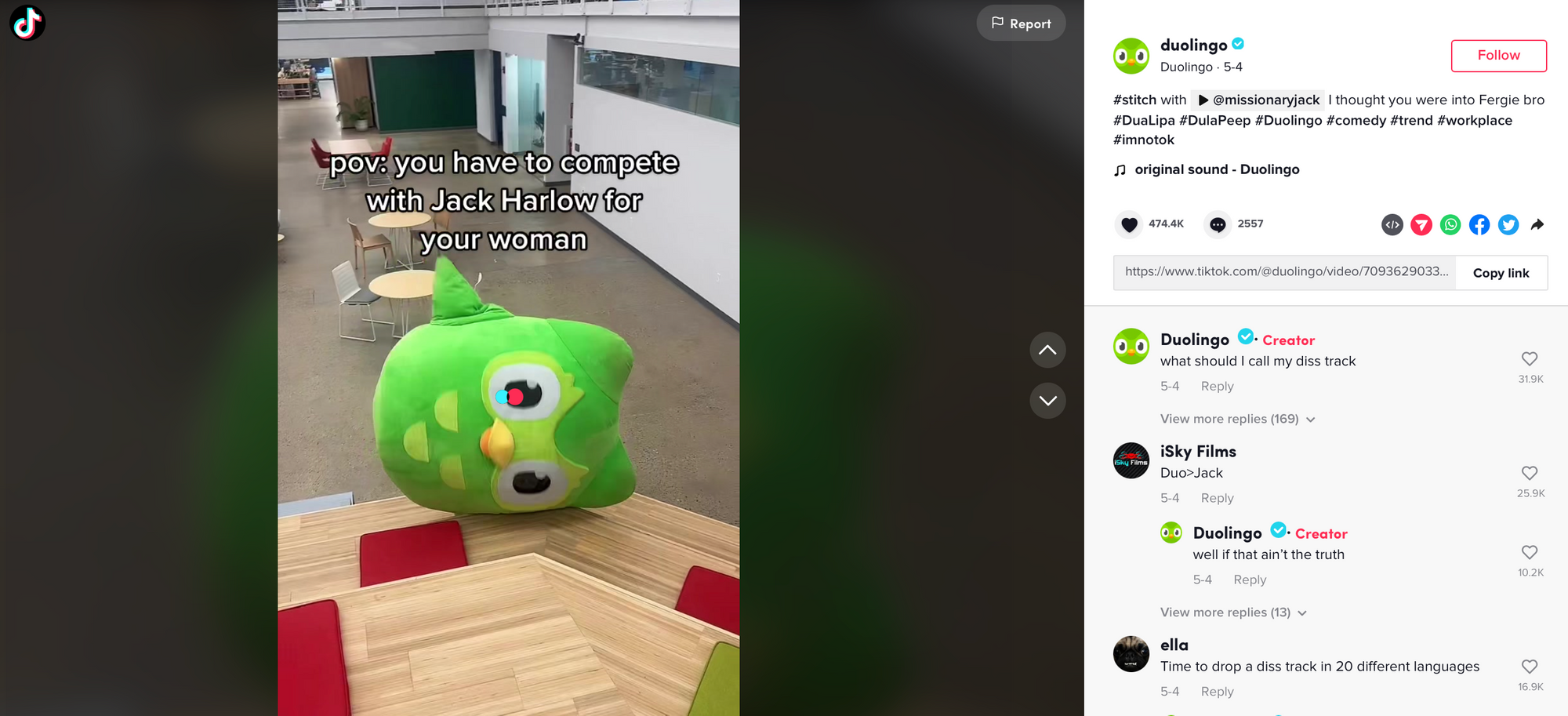 To research trending songs, videos, hashtags, and creators, you can visit trends.tiktok.com.
2. Use TikTok Duet and Stitch
TikTok's Duet and Stitch are two excellent social media marketing tools that every business should use.
You can use Duet and Stitch to remix and expand on another user's content.
You may collaborate with influencers on any form of TikTok video or even commission them to make one for your company.
Thanks to these features, your business can go viral and efficiently reach and engage your audience.
If you're looking for step-by-step information on using these unique features, this article may be helpful.
3. Use storytelling to your advantage
TikTok is a fun platform where you can show off your individuality.
Through storytelling, you can connect and gain the trust of your audience. When your TikTok follows a storyline, it makes your content more memorable.
Besides showcasing the benefits of your product, you can also use TikTok to promote the people behind the brand and your work culture.
If you lack ideas, you can start by highlighting a day in an employee's life or mentioning your experiences with your customers. You can also consider having your employees share hilarious stories or do it yourself.
4. Create a tutorial for your product/service
Short tutorials, life hacks, and 3-step how-tos slowly replace singing, dancing, and lip-syncing on TikTok.
Thus, we can say that TikTok is not only entertaining but also educational.
Creating informative content is a straightforward approach to reaching an interested audience — without necessarily appearing on camera.
Because TikTok videos are limited to one minute, tutorials are usually straightforward and self-explanatory.
Experts, for example, have generated content to reach out to young people on subjects they are uncomfortable to discuss in person.
Take, for example, relationship expert @ask_kimberly who helps teens with dating advice.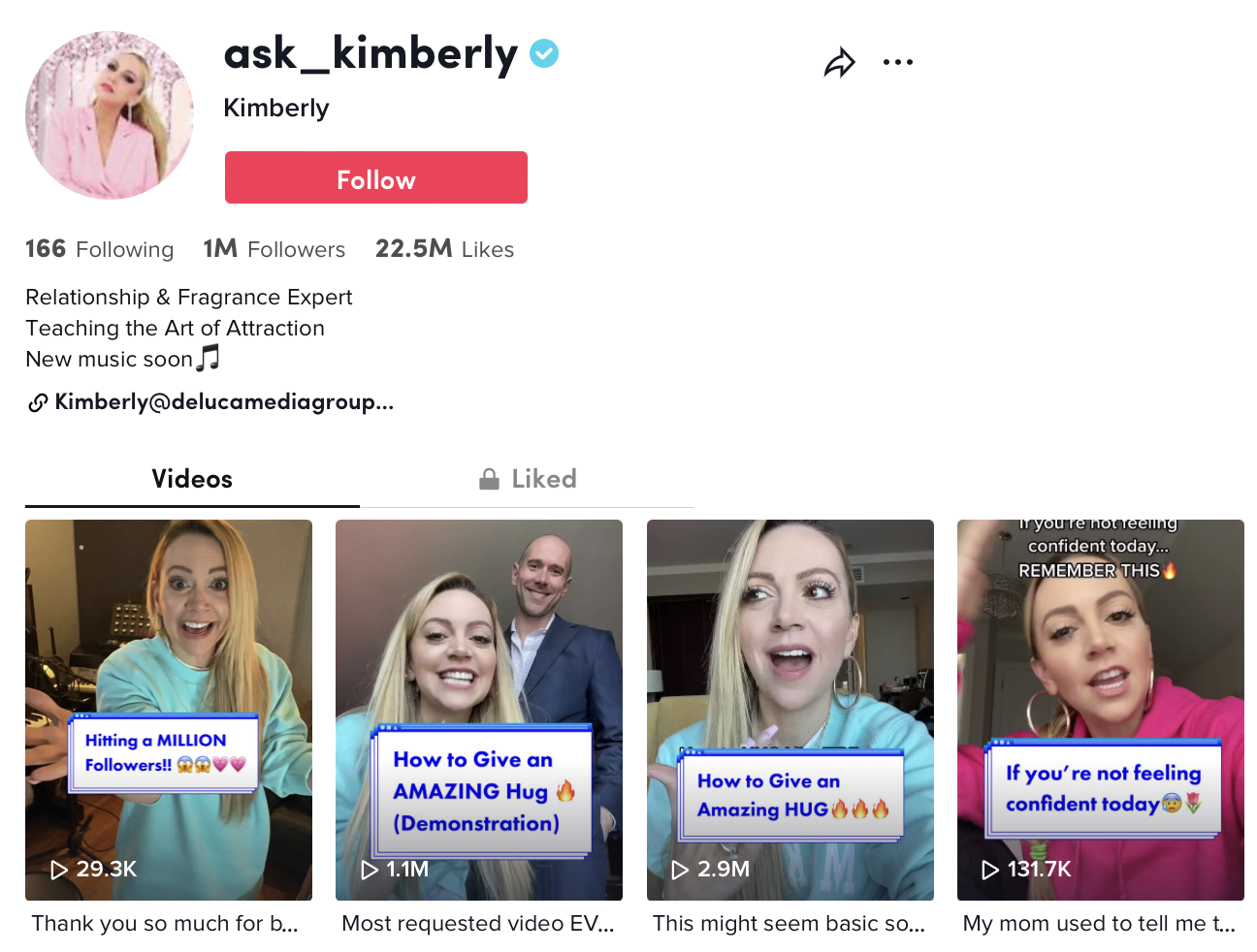 5. Share benefits of your product/service
Similar to a tutorial, you can make a brief video on the benefits of your product or service.  
This allows TikTok users to observe directly how your product meets their needs and improves their lives.
This, however, is a more direct approach and might not necessarily appeal to your target audience if it seems too sales-oriented. Make sure you list your product's benefits in a nondisruptive way.
6. Debunk myths from your industry
Why not set the record straight and debunk some of the most popular industry myths or common mistakes?
People are eager to hear the truth from the source.
This will help you gain your community's trust and increase engagement.
7. Join challenges
You've probably heard this before and are sick of hearing it.
But there's a good reason for it.
TikTok challenges almost always go viral.
So, if you lack content ideas for TikTok, join a trending challenge and watch the magic happen.
Keep in mind that you need to adapt it to fit your profile and audience. Your followers expect to see a specific type of content on your profile. Reproducing content that has nothing to do with your message might seem off.
Alternatively, you can start your own challenge and inspire others to do the same.
You can explore viral challenges and hashtags on your Discover page within the app (bottom-left). Remember that the videos you see will be targeted to your specific region.
8. Celebrate international days
Why should you include holidays in your TikTok marketing strategy?
Celebrating holidays is an easy method to enhance your chances of going viral.
And there are plenty of opportunities to celebrate significant anniversaries that would otherwise be overlooked in a standard marketing strategy.
For example, if you're an FMCG brand, you may want to take a second to mark World Pasta Day or International Pancake Day.
If you don't know where to start, take a look at Socialinsider's list of key holidays and celebrations for 2022.
9. Answer a question from your community
A single video can spark an entire debate.
This is why Q&As are now a key part of TikTok.
When enabled, your audience can mark their comments as questions, making it easier for creators to respond with a video or text.
This way, viewers and creators interact directly.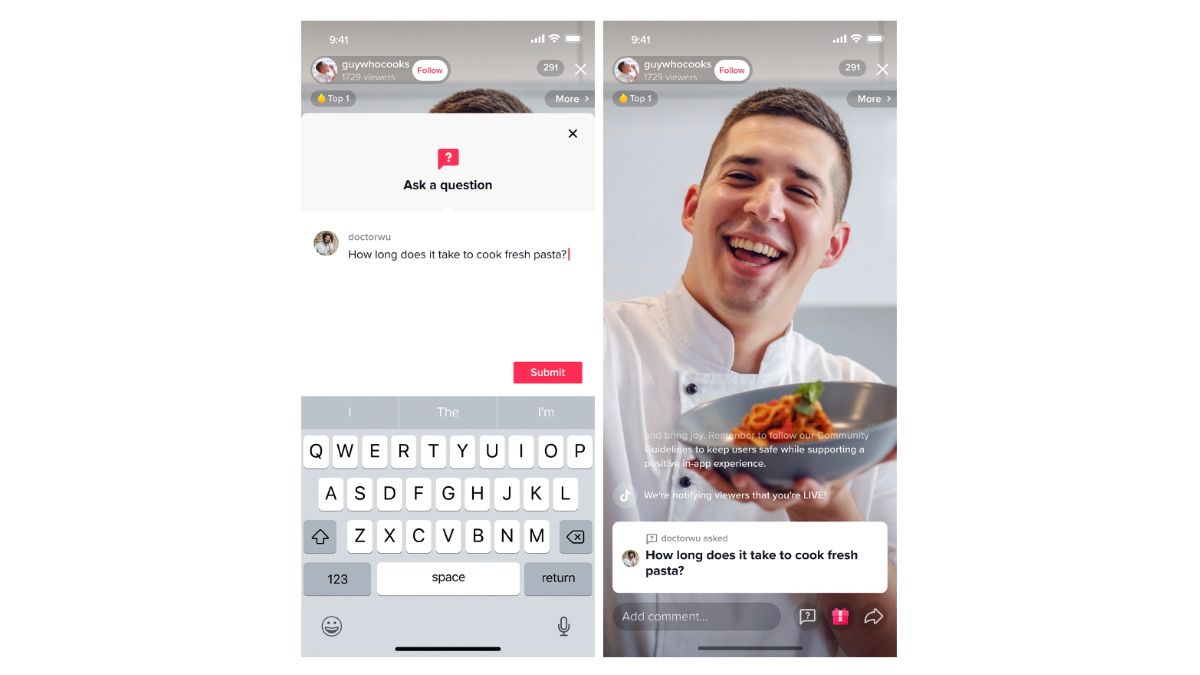 10. Make before & after videos
You might think that the era of before & after videos is long gone.
Well… they're still a thing!
The great part of creating before & after videos is that they work well for lots of businesses, whether it's make-up, clothing, home decor, or other.
Before & after videos are a great and entertaining way to show off the amazing results of your products and services.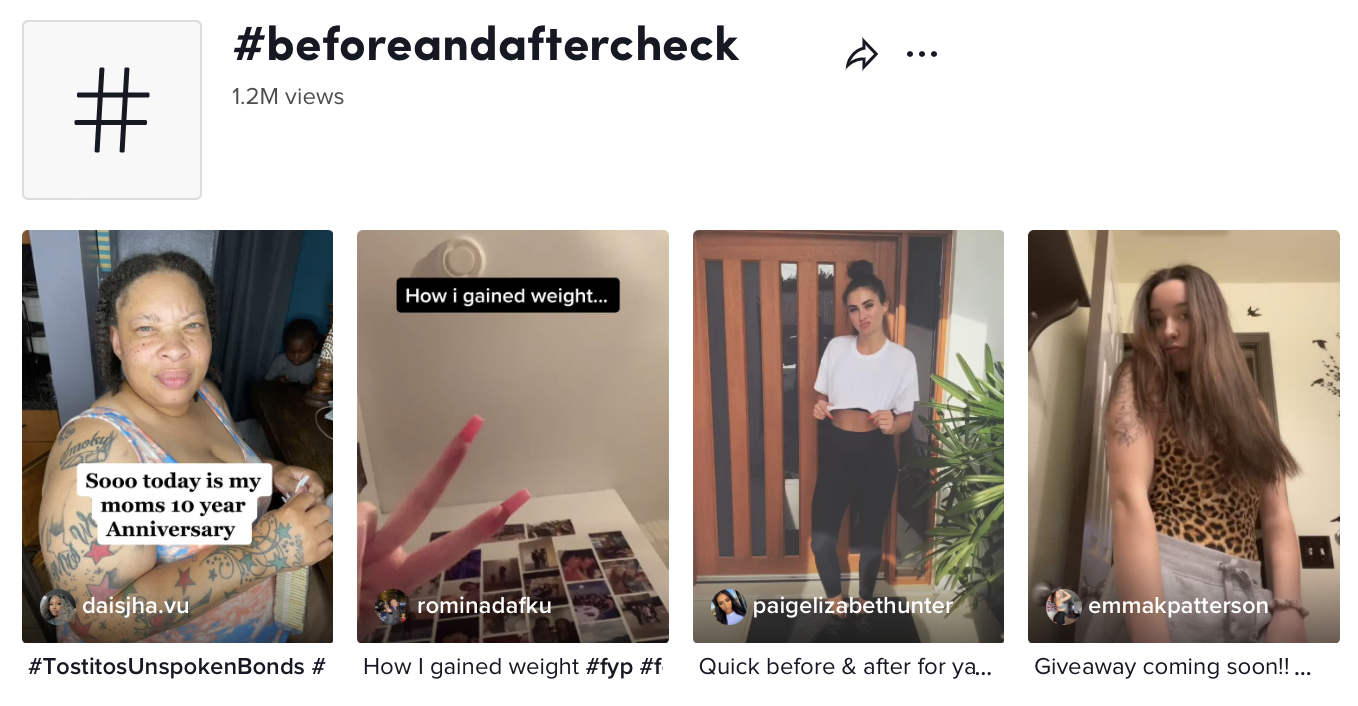 11. Listicles for the win!
Some would argue that listicles are too opinionated and lacking in substance.
Listicles in the new video format, on the other hand, aren't going away anytime soon.
Start by making a video of yourself counting your top fives — it doesn't matter what the subject is.
How do you know if your TikTok content is working?
On TikTok, trending and going viral isn't as simple or predictable as on other social media networks.
But there's a bright side.
On TikTok, anyone can become famous overnight.
It's crucial to keep track of what worked and what didn't so you can spot a pattern and establish a strategy.
Brands may also use social media analytics tools to run a TikTok audit and understand better what matters to their audience and what drives their purchasing decisions.
Wrap up
We hope you found some inspiring ideas to explore.
But don't confine yourself. Creativity knows no limits.
Experiment with different video ideas.
And finally, remember that, no matter what the content is, your TikTok videos must give your audience relevant, engaging, and entertaining information.
Related articles