When collecting social media analytics data for your social report that you're about to present to other departments, you need a well-organised social media dashboard that offers comprehensible data to people who are not connoisseurs.
A unified social media dashboard would make your meeting run smoothly, including all the main social media KPIs in one place.
By analysing a social media marketing dashboard, you get to quantify your brand's social media performance.
Today we're gonna find out more about social media dashboard and how to use them effectively to make social media reporting a lot easier.
---
A social media dashboard is a tool that gathers together your social media metrics across various platforms and shows your brand performance on social media.
With the help of a social media reporting dashboard, you can find out more about your campaign's evolution, what improvements you need to make for the strategy and how to demonstrate your brand's value.
Setting your goals is what will make the wheels spin for your brand. This way, you will be able to lay the foundation and establish the pillars on which your brand's gonna develop.
Make sure you make a list of the goals you want to attain, set a time frame and then make an individual plan using actionable insights and follow all the steps you have to make to attain every goal.
Think about the purpose your social media dashboard should serve.
Do you want to develop a customized report to present it to the executive team?
Do you just want to evaluate your brand's performance in the last quarter?
Learn about your audience
Your brand's faith is in your audience's hands. That is why learning about their needs and desires is crucial if you want to attract them and offer them the product they have been looking for so long.
It is really important to know from the start who you're addressing when building a social media reporting dashboard to learn what kind of data you can include.
Is it someone who has extensive knowledge about social media?
Is it the stakeholders or the executive team and you have to adjust the language and only show key KPIs?
Decide on which type of dashboard you need
Learning about the types of social media dashboards you can develop will help you establish which one is suitable in your case.
Find the one that best satisfies your needs and proves your social media value. However, keep in mind your audience's social media level to adapt your language and data, making them more comprehensible for a non-marketer.
Choose the metrics on which to focus
We know that all metrics are important but it is crucial to focus on the ones that decide your brand's future.
Find in-depth data about your social  media metrics, but make sure you centralise the most important ones and include them in your presentation.
Choose to add to your social media marketing dashboard only the metrics that prove your strategy's performance.
These metrics' values added up to your dashboard will increase your efficiency in such a way that you'll be able to build a better plan and well-researched strategy for your next campaign.
Share your social media dashboard with your team and investors
Now it's time to use the raw data and figures you'd gathered and transform them into user-friendly data to be included in your social media dashboard.
Include graphs and charts as an aid to back up your social media dashboard's data and make it easier for you to explain as you show the visuals.
The stakeholders or the executive team you're addressing to will make better use of the data you present.
Social media reporting dashboards can have different functions. You can use them to organize your social media metrics for every platform in one place while also finding new ways to increase brand awareness.
The values of the metrics in your social media dashboard will prove the efficiency of your social media campaigns.
The way it's performed helps you figure out what adjustments you need to make along the way.
To make sure you gather all the important insights about your brand's social, your dashboard should include:
Your dashboard's goal (just name it)
A list of important metrics that contribute to your goal being achieved
Find out more about your audience
A list of social media channels you want to assess the performance of
Establish the timespan in which you want to attain your goal
If you create a brand in Socialinsider and add all your social media platforms, you get a unified social media dashboard to check your overall performance and metrics.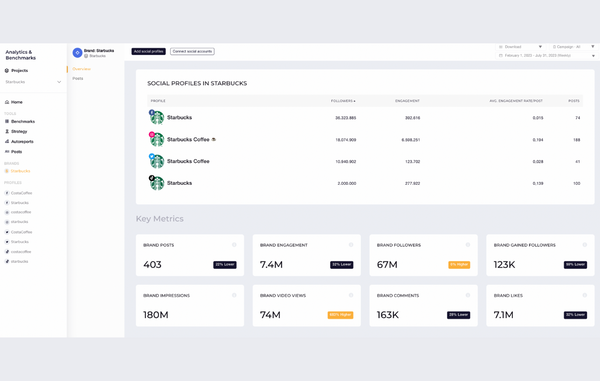 You need to make sure that you can download a report compiling these social media metrics to present it in front of your co-workers. Here, you can even download custom reports as CSV, PDL and XLS.
Depending on the purpose they serve, social media marketing dashboards can be categorized in 5 different types.
When trying to communicate all social media performance data to the executive board, it is clear that you need an executive dashboard with key metrics.
People in the executive team may not always have extensive knowledge about social media analytics and metrics.
That's why a simplified version of a social media report is more than welcomed.
With an executive dashboard you can create customized reports that translate the raw social media data into comprehensive stories.
This way, you will be able to prove to the executive team the social media campaign's impact.
Business intelligence dashboard
With a business intelligence dashboard, you can combine business channels with social data.
You get to easily connect your social media data and your CRM to get clear insights about your audience.
The great part about this type of dashboard is that you will be able to see everything about your audience in one place, tracking their customer journey.
Brand awareness dashboard
The brand awareness dashboard is the kind of dashboard which requires a lot of attention and care, much like a baby.
With this type of social media dashboard, you get to centralize data about social media reach and earn your share of voice.
A brand awareness dashboard provides you with data about mentions and sentiment analysis to know what you have to do next in order to increase brand awareness.
Social customer care dashboard
On social media, customer care is priceless. A social customer care dashboard is meant to measure your team's performance while also analyzing your customers' queries and concerns.
This type of social media reporting dashboard is suitable for big brands with numerous team members who need to pay attention to their customers' needs.
With a social customer care dashboard you will be able to keep count of how many requests you get from clients, learning more about how to make them happy. This dashboard is meant to manage your customer requests from various accounts.
Social media engagement dashboard
A social media engagement dashboard measures your audience's interactions with your social media posts.
You can spot performance trends if you get to see engagement data for more quarters or even the entire year.
With a social media engagement dashboard you can check metrics like impressions, engagement, ad spend, conversions and link clicks.
Gathering new insights about engagement data helps you shape a better strategy where you replicate the most successful posts.
Using a social media marketing dashboard to improve your social media strategy is essential. Having all the data you need on social media metrics in one place is pure bliss.
The insights you get via a social media dashboard will help you better develop your monthly, quarterly and yearly reports.
This way, by looking at the evolution on every social media platform, you will know on which you have to focus to obtain greater results.
Socialinsider is more than a complex social media analytics tool. It provides valuable features like social media reporting, campaign reporting, competitive analysis and benchmark, and social listening.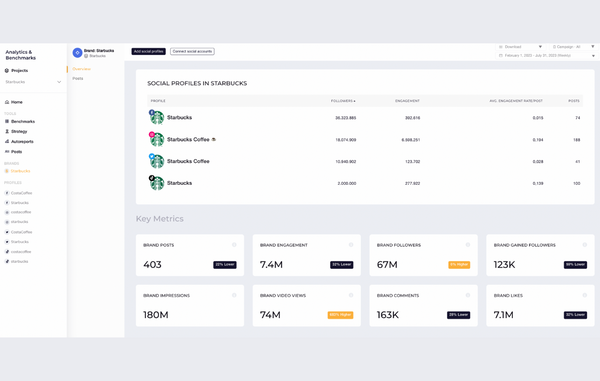 I added the brand Starbucks, including their Instagram, Facebook, Twitter and TikTok pages. Then I looked at the overview analysis in the dashboard where I saw the comparison in performance.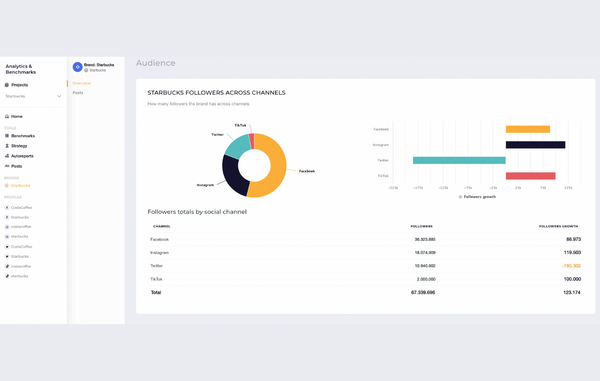 In the Audience section, where you get insights about Starbucks' target audience, you can see the comparison between the number of followers and followers growth.
Moving on to metrics about posts, here you can see the split between all social media platforms in a pie chart, showing you the evolution from the previous period.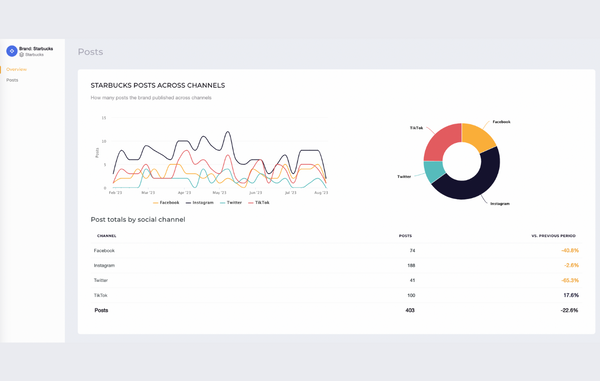 And the most important part of the social media dashboard is the one on Strabucks' engagement across channels.
Here you can check average engagement rate and engagement totals across channels, comparing the results to the previous period.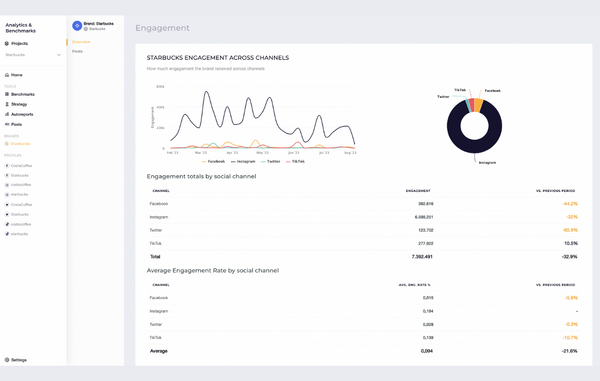 These insights help you assess which is the platform with the highest engagement and how can you cater the needs of your audience on other platforms to grow.
It can be pretty challenging, but you can adjust or craft a better social media strategy that increases your follower count, reach, impressions and engagement.
You just have to test various types of content to see which one reaches your target audience.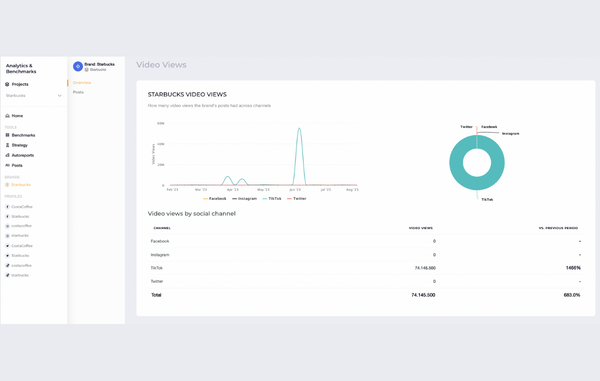 With the metrics you find in the Video views section, you find out how your short-form videos perform on every platform.
Keeping this in mind, helps you rely more on a certain type of video content, depending on the network and the way your audience interacts with your posts.
With all this data about social media media gathered under the same dashboard, it gets easier to adjust your marketing strategy as you go, joggling with types of content, captions' length and posting time to overpower the algorithm.
Here are four examples of social media reporting dashboards that you can find and use in Socialinsider.
You can use the Benchmarks' dashboard to compare two different brands and see how you compare against your competition.
With the Benchmarks' feature, you can see key metrics about two or even more brands that are competitors.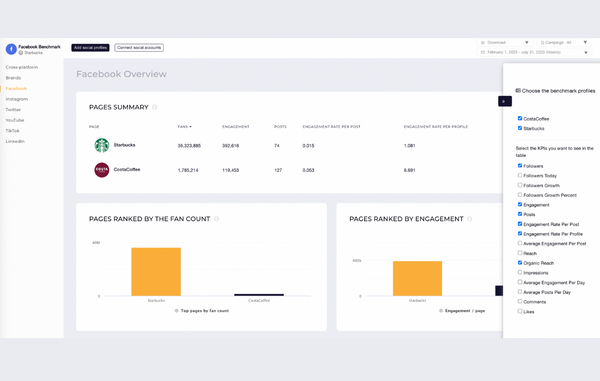 Moreover, in Benchmarks, you can add all social media platforms for each brand, or you can add only one platform to compare.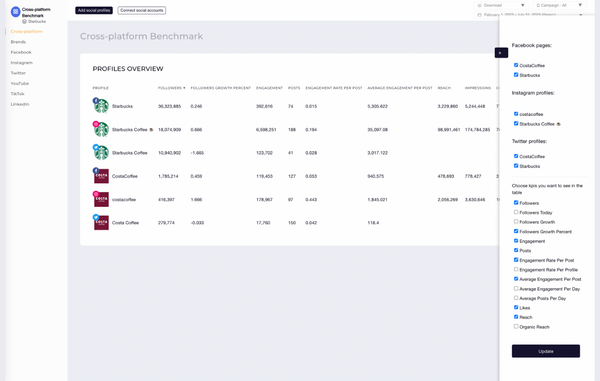 In the Posts' dashboard you can select on what platform to see your posts and what time range.
With this social media dashboard you can see key metrics for each post and you can even auto-tag them and split them into clusters, based on the same keyword or hashtag.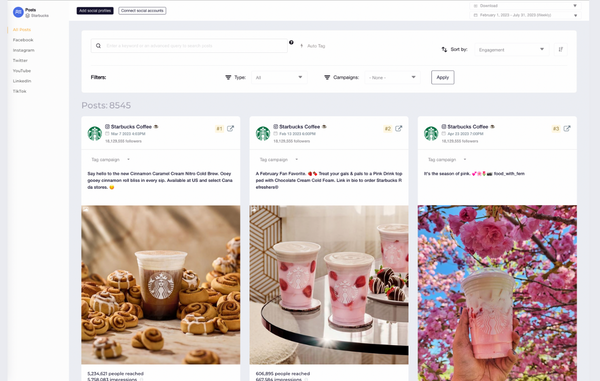 Strategy – Campaign benchmarks
After you add the social media platforms for at least two brands, you can build a campaign
using a common keyword and then check "Strategy" to see the metrics and evolution of that campaign.
Here I added Starbucks' campaign for their Frappuccino and these are the results.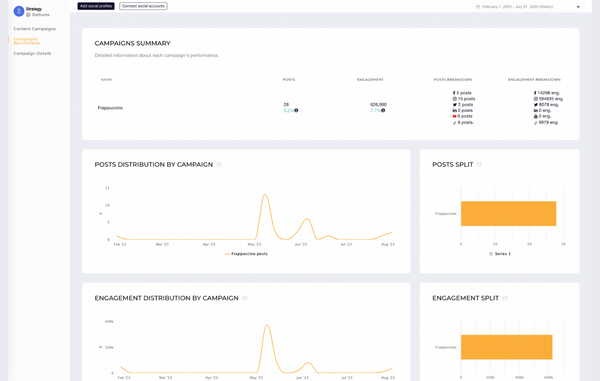 Another social media marketing dashboard you could use to improve your marketing game is social listening.
With this feature powered by AI, you can find out what users, clients and prospects say about your brand on social media.
Here I used social listening for the Starbucks' campaign "Frappuccino" to see how many people have used their hashtag.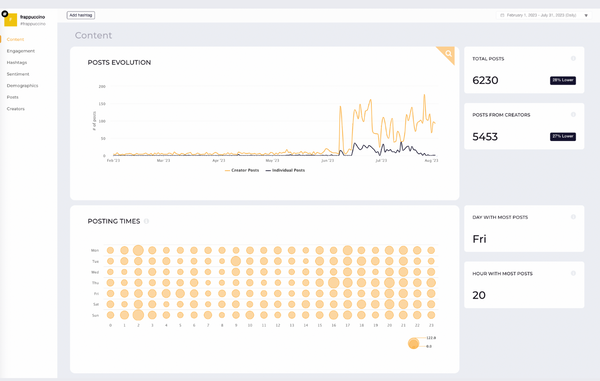 BONUS: Google Data Studio
Socialinsider integrates with Google Data Studio and you can use it to develop your social media dashboard template.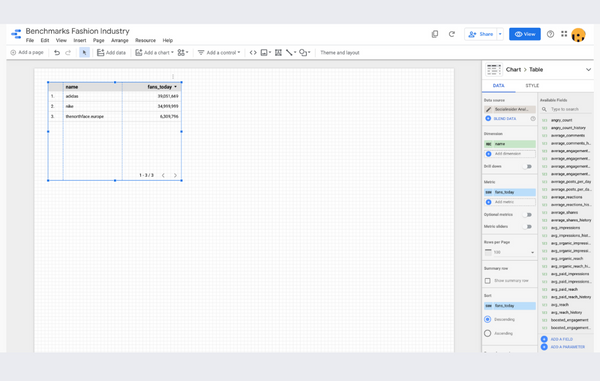 Google Data Studio is a data visualization platform that will keep track of everything analytics.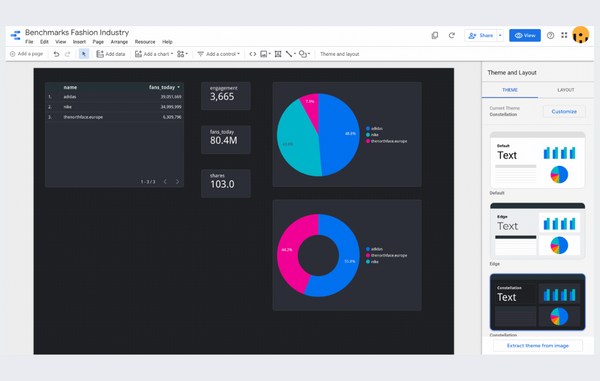 Final thoughts
With a suite of social media dashboards, you will surely get more efficient when developing your periodic social media reports.
Find the right dashboards to include in your day to day analysis for your brand's performance and you will not only make your strategy work, but you will also improve it.
Frequently asked questions
1.How can I create a dashboard for free?
Some of the best free dashboard tools for visualizing your metrics and KPIs are Datapad, Grafana, Databox, Dasheroo, FineReport, Metabase, Google Data Studio, Matomo, Tableau, and Inetsoft.
2.How do you create a KPI for social media?
State the KPI's objective. Make it clear how tracking the KPI will help the company reach a specific business goal.
Name your KPI.
Share the KPI.
Analyze your current performance.
Understand industry benchmarks.
Define your cadence.
Review the KPI.
3.How do I create a social media analytics plan?
Set S.M.A.R.T. goals.
Track meaningful metrics.
Conduct a competitive analysis.
Use social media listening.
Look for impostor accounts.
Decide which networks to use.
Set up your profiles.
Social media success stories.
4.Is Google dashboard free?
You can use these free dashboards to create dashboard with Google spreadsheet and customize it as you like.
5.Which tool is best for creating dashboard?
Best for Built-In Analytics and Support: Tableau.
Best for Visualizations and Included Library/Templates: Grafana.
Best for Integrations/Datasources: Google Looker Studio.
Best for Pricing: Microsoft Power BI.
Best for Third-party Connectors: Klipfolio.